As the story goes, the First Thanksgiving was a feast to celebrate God's provision of food and friends to the early Pilgrims.  After suffering a debilitating first winter, the Pilgrims gave thanks for the bountiful harvest which was made possible from the relationship they developed with the Native American Wampanoag tribe.  Without community efforts the Pilgrims may not have survived another winter.
As important as the helping hands of the Wampanoag tribe were to the Pilgrims, our neighbors and friends are as integral to survival today as we navigate a world of Covid-19, protests, societal conflicts, relationship upheavals, and personal problems that seem to mount each day.  There has been a lot of talk the last few years about one's "tribe."  A quick search on social media and you'll see an abundance of hashtags #mytribe connected to posts.  Sebastian Junger wrote an entire book titled Tribe: On Homecoming and Belonging.  There is a deep rooted longing to belong to a greater group, to have a home within a larger entity.  In today's modern societies where we often don't know our neighbors, where political differences are a source of neighborhood and even family fissures, and where we allow ourselves to be offended more easily than blessed by others, I find there is an even greater need for a larger collective group known as community.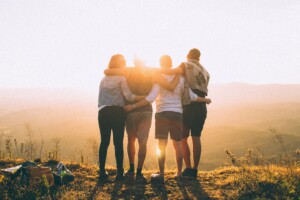 I know firsthand the power of community to carry me through the dark winter, even when I did not know them well at the outset. I know very personally the power of community on my well-being and life.  Many years ago my husband and I went through some very dark, very ugly issues that for many end in heartache and brokenness.  But for us, with the help of the community, it ended in a stronger, deeper, and more firm relationship.
Sometimes it is not about changing your view, but changing your perspective. No matter where you are, what situation you are in, what porch you find yourself on, if you look for community it will find you.  Three of my main takeaways to building community include: a willingness to be vulnerable, an anchor to accountability, and an obligation to pay-it-back.
Vulnerability is scary.  We don't want friends, family and neighbors to see the ugly, to see how broken we really are or how messy our lives are.  Perception is reality right?  If I post the right pictures, if I dress a certain way, if I keep myself locked behind walls of performance, then no one will know I'm really a fraud and don't have it together.  It is the most horrifying moment to have all your guts spill open in front of others.  But it is the most beautiful and healing moment when those friends lean over and scoop your mess and help put you back together.
We are made for community. We are created to encourage, support, and uplift one another.  During the hardest days, I would force myself to pick up the phone and let others into our mess.  And you know what? The act of reaching out was met with an extended hand, a drop of the knee, or a word of wisdom.
James 5:16 says we are to confess our sins to each other so that we may be healed.  Confession is coming into agreement that we need help, and that we can't survive by striving alone. In the midst of the storms, crashing waves and onslaught of accusation or shame, we all too often isolate ourselves.  The enemy would love nothing more than to pick off the lone ranger, the lone sheep.  It is difficult to have and keep a faith and ward off the accuser of our souls without others who can speak wisdom and truth into the fog.  By allowing others into our lives, we open the deepest parts of ourselves, exposing the good, the bad, and the ugly, and allowing Christ's healing balm to be poured in through others.  Without vulnerability we deny the powerful working of the body of Christ.
To create community takes intentionality and commitment.  Anchoring to accountability is essential to pass through the storm. Otherwise, the siren call of self-pity, isolation, and depression can lead us to self-destructive acts.  Rather, knowing the siren call is inevitable, we must bind ourselves to the mast of Christ's truths spoken through our community.
During our time of hardship, God led us to a very special church and small group that literally loved us through our darkest days, without judgement.  We were put in a formation group which required a commitment, a vow really, that we would meet every week; it was to be a priority in our lives.  At first my husband and I resisted as we tend to be fly-by-the-seat-of-our-pants kind of people.  Anchoring us to one commitment weekly was hard and uncharacteristic, but it turned out to be one of the best and most fruitful decisions.  The repetition, the liturgy of life that the formation group brought, planted seeds of blessing that over time blossomed and brought forth healing balm.  Of course, there were evenings we wanted to run and not show up, but the commitment tethered us to the group and we upheld our duty.
That small group, and the larger church body, carried us through the storm by coming together, praying together, and being in communion together.  Part of our story is that God gave us people who loved us through the fiercest storm.  I have found that when we go beyond ourselves in asking and sharing it helps us grow spiritually and emotionally.  Leaning into community, hopefully an ever-expanding community, helps us learn to love one another and ourselves, as Christ commands.  This Thanksgiving let us keep afresh the words of Hebrews 10:24-25: "Let us consider how to stir up one another to love and good works, not neglecting to meet together, as is the habit of some, but encouraging one another, and all the more as you see the Day drawing near."
There have been many challenges in my life I could not have survived if it were not for the strength of the seasoned women around me, their witness to faith, and the encouragement they have offered. I have been sifted and refined by these trials, and I believe we are called to comfort others with the same comfort we have received.  2 Corinthians 1:3-4 says "God is our merciful Father and the source of all comfort.  He comforts us in all our troubles so that we can comfort others. When they are troubled, we will be able to give them the same comfort God has given us."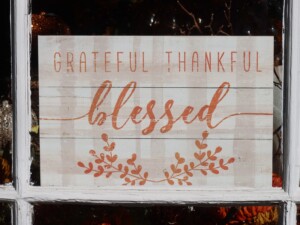 It is our responsibility, dare I say obligation, to then turn and offer our hand to others who are going through similar struggles.  Porch Lights seeks to do just that—aid in the flourishing of others by coming alongside the women of Richmond no matter their phase of life. We hope to provide the porch where the light of Christ shines brightly and beckons all to seek refuge, comfort, peace, and community.  If you are in need of community, we at Porch Lights are here for you or can point you to someone for help.  Take the first step to be known, received, and loved.  Please reach out to us and we will follow up and help connect you.
This season, we are so thankful for the greater Richmond community of women who have walked with us individually and collectively as we enter our third year as Porch Lights.  South Side, North Side, East Side or West (end) Side, women from all over Richmond are mingling, helping, and supporting one another. What a great city to live in, where we can reach across the uncomfortable barriers and help our neighbors.  Leila Gunning and Patty's Hope come to mind helping the mothers who lost their children to the foster system.  Or Julie Wilson whose passion is to lead women into a vibrant life of giving.  Janice Allen and Annhorner Truitt both have passion-filled stories of a God who used dark times to redefine their futures.
Community is built on the foundation of common interests and trust.  In the most basic sense, we all have a common interest in seeing Richmond thrive, relationships recover, and the healing of our land and our families.  I encourage you to stop and reflect on your community this Thanksgiving.  Is there someone in your neighborhood, say a distant neighbor going through a hard time that could greatly use a helping hand?  Love grows where kindness is planted, reads a cute sign in my mother-in-law's house.  Let's be women who plant kindness and reap love. Let's pray and hope that Richmond will be a giver city, one that gives of itself by planting a harvest from which others can benefit.
No matter the view from your porch, life brings challenges, joys, and the deep need for community. We provide a place for women across all seasons to join together and lean into God's unchanging love, care, and compassion. Come to our porch, rest and reconnect in the light of Christ. The light that shines brightest in the darkness beckons you— "Come all who are weary and heavy burdened and I will give you rest." (Matt 11:28)