We were created to live in abundance. The Garden of Eden was teeming with life, rivers, wholesome food to eat, and precious and beautiful things like gold, aromatic resin and onyx (Genesis 2:12). Eve was created to thrive among extreme abundance, in the presence of God, the Great I Am–created to walk with Him and let Him fill her with delightful food from His garden. 
We all know the outcome of the story and its effects on our lives. Eve chose to listen to the voice of self-determination, the voice that encouraged her to find her identity apart from her creator. Today, as in all human eras, we are in a fierce battle over our identity, who we are, who God calls us to be, and how He desires to use us for His kingdom. We often run on empty, filling our starving souls with different drugs of choice: food, social media, image projection, travel, and education to name a few. 
As Kingdom people, we turn to Jesus to fill our empty cup. He cares deeply for our hurts, our struggles, and He longs to usher us into abundant life. Jesus came that we may have life, and life abundantly. 
Are you living in fear, trapped in circumstances, bound by a scarcity mindset? It's so easy for the worries of the world to derail, cripple or destroy the calling God has over us and the assignment He has given us to accomplish on this earth. Such worries and our own inner battles wrap us in chains, bind us in fear, self-doubt or loathing, and create inner turmoil that prevents us from living abundantly in our creator's light. 
The following is a powerful testimony of how the enemy of our soul tried to undermine one woman's design, by distorting the core attribute that God intended to use to bless others. A dear friend of Porch Lights and Founder/Owner of Plentiful Foods, Annhorner Truitt, sat down with us and shared her story, in hopes that it would encourage women throughout Richmond.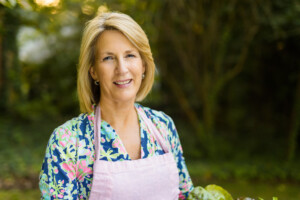 In her teens and twenties, Annhorner outwardly enjoyed a fulfilling and fruitful life, but internally, she battled deep struggles. "There seemed to be this pain that was eating me alive.  My drug of choice became food, or more often, no food." Annhorner became all too familiar with living in a state of wanting and emptiness, bound by a scarcity-mindset. "As anorexia and bulimia threatened to consume my life, I lost years obsessively counting every calorie eaten and burned; tallying every protein, fat and carbohydrate gram; and subsisting on highly processed, diet 'food-like substances' that left me starving for more." 
Striving to keep many balls in the air and to manage her carefully constructed life left Annhorner depleted, empty, and crying out for help. "I collapsed one long dark night, and yelled 'I GIVE UP,' and God was right there." Over time, Annhorner discovered that God's mercy and grace had been available to her all along! "I became bound and determined to learn to rebuild my life with God, God's way." 
"Over the next several years, I realized that God had healed me of anorexia as He filled my starving soul." Our God satisfies our souls with the richest of foods (Psalm 63:5)! In His redeeming love, Annhorner explained that God has surprised her with a passion to prepare fresh, tasty food to nourish our bodies, nurture our relationships and savor life together in community. 
Crying out to God and seeking His declaration of love and identity over her stirred a particular calling within Annhorner: "to provide busy individuals, families, and businesses with remarkably good food for sharing life together around their tables–on ordinary weeknights or on special occasions." Six years ago, her catering company, Plentiful Foods, for Savoring Life was born out of God's redeeming work in her life. Today, Annhorner and her wonderful team create delicious, nutritious meals for families and businesses all across Richmond.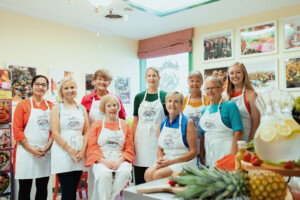 Ladies, this is what our savior does! He takes our hurts and turns them into blessings, and He calls forth the truth while healing the broken areas of our lives. "God has taken what was once a source of deep pain and isolation, and turned it into a calling that delights me and connects me with others," reflects Annhorner. The Holy Spirit wants to renew, restore, and make a way to remind us of our design and purpose in the Lord. 
After years of being trapped by a scarcity mindset, Annhorner now lives among a plentiful harvest, and God continues to meet her in her moments of need. God has provided her with a team and staff where she feels surrounded and supported by the body of Christ. Each person adds unique and important value, contributing to a life-giving culture of creativity, care, and hospitality."  
As they prepare with their clients to cater weddings, funerals, business meetings and other gatherings, it is not unusual for the Plentiful team to be given access to deeply personal situations in others' lives.  "We pray for the Holy Spirit to keep us sensitive and available to His leading us in the sacred privilege of serving for our clients and friends," Annhorner told us. 
When we step into the fullness of who God wants us to be, we become agents of transformation and blessing to those around us. Blessings can flow through us to others, like rivers of life. 
Annhorner reflected that, as a young adult, living in a scarcity mindset often led to missing the blessings God had right in front of her. Today she seeks to savor life and to live plenty-full of God's grace as she celebrates His blessings.  Like Annhorner and her faithful team, we too just need to cry out, "I choose you, God!" No matter how many steps away from God we've taken, it is only one step to return. 
God wants us to seek Him, find Him, drink deeply from His river of life and be filled. We should be asking God questions like these: "Who do you say that I am? What is your unique design for me?  For what reason did you make me?" Porch Lights strives to offer a safe place for women to ask such critical questions and to find comfort, truth, encouragement, and answers. 
Let's help one another to choose God.  Let's encourage one another towards the abundant grace, peace and provision of God.  Let's beware of a mindset of scarcity and instead let God nurture in us a deep gladness for His blessings.  We just have to cry out, "We choose God." Together, let's choose to live in His good pleasure, for He opens His hand and satisfies the desires of every living thing (Psalms 145:16). 
What have you been freed from? What have you been freed for? What has God declared over you? We would love to hear from you!  Please drop us a note, or connect with us on our connect page! Let the redeemed of the Lord tell their story, for he satisfies the thirsty and fills the hungry with good things. (Psalms 107: 2, 8)