Porch Lights' mission is to provide opportunities for women to invite friends, neighbors, and co-workers to be renewed by God's love through unique gatherings that aid in the flourishing of their hearts and everyday life. Our speakers bring messages that are both culturally and spiritually relevant, specially designed to encourage and support women in their everyday lives.
Join us Fall 2022!
"The Color of Grace" with Bethany Haley Williams
Founder and CEO of Exile International
Mark your calendar to join us October 13-14!
Meet Bethany
Bethany Haley Williams is the Founder and CEO of Exile International – an organization providing holistic rehabilitation and art-focused trauma care to rescued child soldiers and children orphaned by war. With a Ph.D. in counseling psychology, a license in clinical social work, and 20 years of experience working with emotionally wounded children, she is a leader in the field of war-affected child rehabilitation. Dr. Williams is also on the Trauma Healing Institute Advisory Council of the American Bible Society. In addition, she is an activist who is committed to amplifying the voices and stories of war-affected youth. In her book, The Color of Grace, she discusses having walked through her own trauma journey and how that led her into war zones where she was taught the power of redemption of children who have survived war. The book beautifully ends with the children in Exile's programs writing a letter to the world about the power of forgiveness. Dr. Williams' passion rises from finding joy in the small, purpose from pain, and beauty from brokenness. She and her husband, Matthew, a master's level trauma counselor, lead the work of Exile International together in Nashville, TN.
Join us for a Porch Party!
We came. We rested. We worshipped.
At this time, we're organizing neighborhood Porch Parties in the Spring and Summer that allow us to safely gather outdoors to worship, pray, and be encouraged by hearing the testimony of a fellow woman of faith. Please follow our Instagram page @PorchLightsRVA to hear the latest dates and details.
Q: What's a Porch Party?
A: An informal and free way for us to worship, pray, and be encouraged by hearing the testimony of a fellow woman of faith.
Q: Where is the Porch Party?
A: Upon registration, the location of the Porch Party will be emailed to you.
Q: How do I register to attend?
A: When registration is open, a link will be available on this page. Follow our Instagram (@porchlightsrva) to learn as soon as it's open!
Q: What else do I need to know?
A: Porch Parties are open to anyone; however, we require an RSVP to ensure we have plenty of space for our guests. Also, please BYO water/tea/seltzer (whatever you fancy!).
Porch Lights Book Club
We love to stay connected with women in our city.
You're invited to our porch as we gather together to be encouraged, supported and renewed in our everyday lives through good books, candid dialogue and, of course, sweet tea! Please RSVP using the links below if you plan to join us!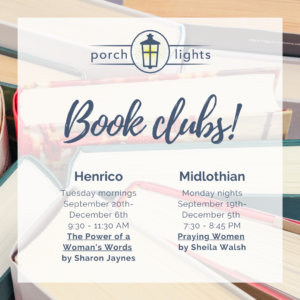 Melissa Kruger
Jodie Berndt
Ellen Vaughn
Vicki Rose
Kim Hume
Heather Davis Nelson
Leigh Ellen Rodriguez
Lisa Robertson
Elizabeth Robertson Williams