Porch Lights' mission is to provide opportunities for women to invite friends, neighbors, and co-workers to be renewed by God's love through unique gatherings that aid in the flourishing of their hearts and everyday life. Our speakers bring messages that are both culturally and spiritually relevant, specially designed to encourage and support women in their everyday lives.
Join us for a Porch Party!
We came. We rested. We worshipped.
At this time, we're organizing neighborhood Porch Parties in the Spring and Summer that allow us to safely gather outdoors to worship, pray, and be encouraged by hearing the testimony of a fellow woman of faith. Please follow our Instagram page @PorchLightsRVA to hear the latest dates and details.
Q: What's a Porch Party?
A: An informal and free way for us to worship, pray, and be encouraged by hearing the testimony of a fellow woman of faith.
Q: Where is the Porch Party?
A: Upon registration, the location of the Porch Party will be emailed to you.
Q: How do I register to attend?
A: When registration is open, a link will be available on this page. Follow our Instagram (@porchlightsrva) to learn as soon as it's open!
Q: What else do I need to know?
A: Porch Parties are open to anyone; however, we require an RSVP to ensure we have plenty of space for our guests. Also, please BYO water/tea/seltzer (whatever you fancy!).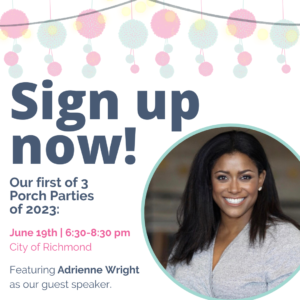 Join us this Spring 2023!
Thursday, April 27, 2023
6:15 PM, Registration, Gathering &
Charcuterie Supper
7:15 – 8:30, Program
Willow Oaks Country Club
$40/ticket
**Tickets are SOLD OUT for the evening event. To be added to the waiting list, please contact us at [email protected]**
Friday, April 28, 2023
11:15 AM, Registration & Gathering
12:00 PM, Lunch served
12:35 – 1:30, Program
Willow Oaks Country Club
$40/ticket
Tickets are no longer for sale for this event. If you have any questions or have interest in purchasing a ticket, please contact us at [email protected]
Meet Ruth
Ruth McKeaney is a former Assistant Attorney General for the State of Virginia, and Assistant Commonwealth's Attorney. Ruth and her husband, Bob, are now raising their five children on their restored historic farm in Berwyn, PA. (Hillside Farm was featured in the books Stone Houses and Theology of Home and has been exhibited in multiple home tours.) They have flipped many historic homes over the last two decades and joyfully lived in each one of them. They have company more often than not in a given year.
As a constant host (to literally thousands of people over the years), Ruth goes to the heart of what makes one feel at home. Every day, her goal is to make her home a safe place so her family and her guests have the opportunity to have deeper needs met. Intentional homemaking, in its most idealized form, is creating a setting where vulnerability and honesty are valued and protected, where understanding and grace are fostered and love freely given.
It's time to recover the richness of community that's been lost in the hustle and bustle of today. We can still slow down. We can still prioritize our family and friends over our "to-do" lists. We can still find beauty in the midst of chaos. We can still sit around the table with bowls of pasta and laugh until two in the morning. We can still go home.
Read more at her website, www.hungry4home.com.
Porch Lights Book Club
We love to stay connected with women in our city.
You're invited to our porch as we gather together to be encouraged, supported and renewed in our everyday lives through good books, candid dialogue and, of course, sweet tea! Stay tuned for details about the next book club!
Melissa Kruger
Jodie Berndt
Ellen Vaughn
Vicki Rose
Kim Hume
Kim Meeder
Heather Davis Nelson
Leigh Ellen Rodriguez
Lisa Robertson
Elizabeth Robertson Williams